Marti Gerritsen




Name
Marti Gerritsen
Gender
Female
Spouse(s)
unknown
Family
unknown
Job
Actress
Portrayed By
Alona Tal
Marti Gerritsen is an actress in the world of Cult. She portrays Kelly Collins, the lead female character in the show within a show Cult. An LAPD detective, Cult centers around her cat and mouse game with Billy Grimm.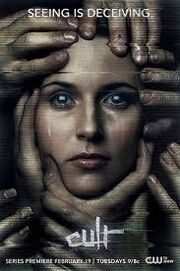 Kelly was Billy's former follower/lover. Since escaping from the cult, Kelly has become an LAPD detective, but, when her sister is kidnapped, Kelly finds herself drawn back into an investigation of the group's activities. In her investigations, she struggles to keep Billy at a safe distance, knowing he would stop at nothing to get her back.
As time goes on, Marti begins to realize that being the star of this particular show may have truly dangerous consequences.